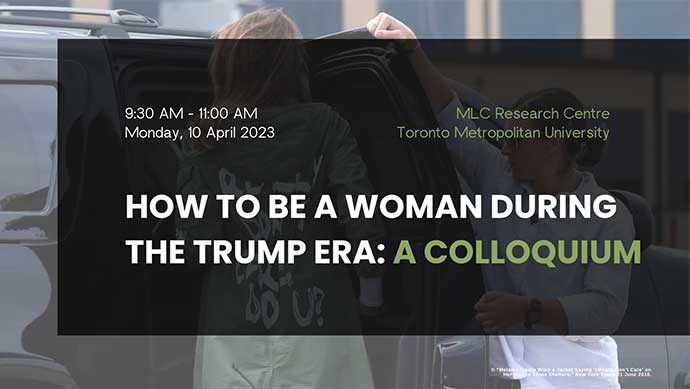 An Undergraduate Colloquium at Toronto Metropolitan University
How did contemporary American literature respond to the crisis of the Trump years and beyond? Against Trump's prejudice driven by racism, sexism, and xenophobia, what did it mean to be a woman in an explicitly misogynistic environment? The era witnessed the rise of the literature of the #MeToo movement making visible sexual abuse and harassment, as well as the poetic resistance against misogyny and racism on social media, along with evocations of vulnerability during the pandemic. In two public colloquium panels, students explore these questions and themes through contemporary American literature, while also drawing on the insights from guest lectures given by distinguished American authors and scholars visiting this experiential learning class. Collectively, these papers engage with books that Pulitzer Prize winner Carlos Lozada, in his 2020 book What Were We Thinking: A Brief Intellectual History of the Trump Era, calls the resistance against the Trump presidency.
Program
Colloquium - How to Be a Woman During the Trump Era from MLC Research Centre on Vimeo.
Land Acknowledgment — Brenda Aleman
Greetings:
Dr. Amy Peng, Associate Dean, Innovation in Teaching and Learning, Faculty of Arts
Introductory Remarks, Dr. Irene Gammel, Executive Director, MLC Research Centre
Panel I: #MeToo as Creative Resistance
Institutional Liability in Kate Russell's My Dark Vanessa
Brenda Aleman
The Role of Vladimir Nabokov's Lolita in Kate Russell's My Dark Vanessa
Anna Nová
Unreliable Narration in Kate Russell's My Dark Vanessa
Klára Lopuchovská
Trauma, #MeToo, and the Memoir: Chanel Miller's Know My Name
Nora Dempsey
Fraternity Culture and Campus Violence in Miller's Know My Name
Lucinda Sande
Panel II: Grievances & Social Justice
Mortality and the Elderly During COVID-19: Adichie's Notes on Grief
Songlee (Jane) Pyo
Black Eulogy in Chimamanda Ngozi Adichie's Notes on Grief
Lannii Layke Pettiford
Cyberbullying in Kate Baer's I Hope This Finds You Well
Taranveer Bhangal
The "Thingness" of Words in Kate Baer's I Hope This Finds You Well
Cassandra Lubiana
Conclusion & Thank You — Cassandra Lubiana

Download or view the colloquium program (PDF)
Organizers
Acknowledgements
Thank you to the expert speakers in the course, whose ideas laid the foundation for this colloquium.
Carlos Lozada, New York Times
Jennifer L. Airey, University of Tulsa
Nelanthi Hewa, University of Toronto
Elise Grabowska, Southern Illinois University
Stephanie Madden, Penn State University
Amanda Brand, University of Nebraska-Lincoln
Ashwini Tambe, George Washington University
Marjorie Worthington, Eastern Illinois University
We thank the MLC Research Centre, the English Department, and Faculty of Arts for support, including Amy Peng, Sam Sakaluk, and Justin van Lieshout.

---