MLC Director, Dr. Irene Gammel, talks to the Toronto Star about the new sexy blond Anne of Green Gables.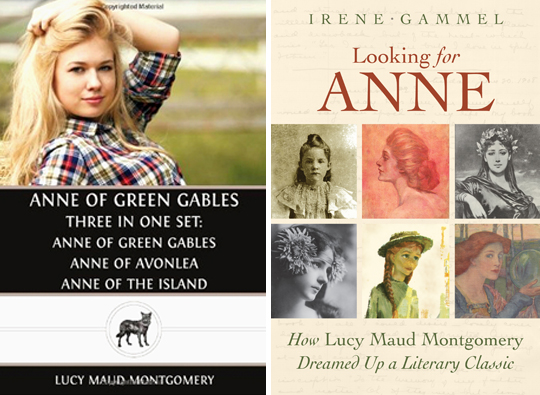 Left:
Blond Anne has readers seeing red.
Right:
A sampling of Anne faces.
Remember when Anne of Green Gables leaned back on the barnyard fence, ran a hand through her shimmering blond hair and tossed off a sexy pout? You don't?

Then join dozens of other outraged readers of the 1908 Canadian classic who have let Amazon.com know that the most recent edition of L.M. Montgomery's coming-of-age text got it all wrong in the cover art department.

The book has been in the public domain since 1993 and therefore publishable by anyone, without permission of the original copyright holder.

The new edition, released in November under the auspices of Amazon's CreateSpace self-publishing operation, features a buxom young woman on the cover, with flaxen locks: a far cry from the skinny, pigtailed, red-headed heroine of Montgomery's famous series of books.

"This is pushing things too far for the sake of making a few more bucks out of Anne," Gammel said. "It's legitimate to update the packaging of a text to make it accessible to new readerships, but it's another matter to miss the point of a novel.

"Montgomery's iconic Anne is a high-spirited redhead with freckles and a pointed chin, whereas this new Anne is a languid blond with dark roots, a round face and a come-hither look.

"Montgomery's Anne is skinny, whereas this cover shows a big bosomy vixen in a cowboy outfit. The drive with Matthew down the White Way of Delight is replaced

with a roll in the hay," Gammel added. "It seems weird to package Anne like a

soft-porn star...
Dr. Irene Gammel interviewed by CTV