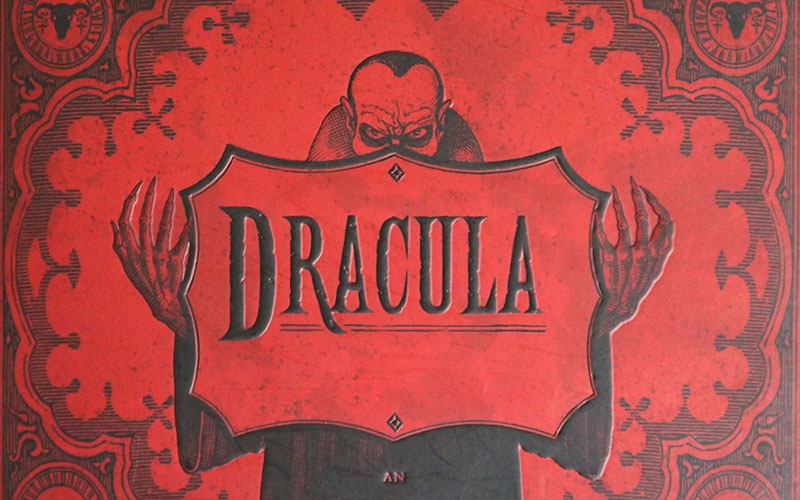 The scriptural phrase, "the blood is the life," which serves as a motto for Bram Stoker's horror novel Dracula (1897), alludes to the vampire's thirst for blood, needed for his own survival. The vampire exerted a particular pull over audiences of the modern period, and Stoker's modern vampire set the stage for decades of representations, re-workings, and subversions of Stoker's archetype in literature and popular culture.
An entire collection of vampire literature, books with a bite, one might say, has found a home in Ryerson's Modern Literature and Culture Research Centre Special Collections. Donated by world expert in the field, Dr. Elizabeth Miller, the latest installment comprises over 80 books, offering researchers and horror aficionados a significant new resource for studying the subject. The entire collection encompasses over 160 books.
The collection is comprised of varied editions of Bram Stoker's novel: some are abridged, some illustrated, some modernized, and some brimming with scholarly annotation. There is even a graphic novel adaptation of the 1992 film Bram Stoker's Dracula, directed by Francis Ford Coppola. Of particular importance is Dracula: The Rare Text of 1901, a high-quality facsimile of a scarce 1901 edition of the novel, with abridgement by Stoker himself. This volume is itself rare, with only 500 produced. A unique reprint of Varney the Vampire, a penny dreadful from 1847, offers a glimpse into pre-Dracula fictional conceptions of the vampire.
"We are excited to receive this latest installment of the collection," says Dr. Irene Gammel, director of the MLC Research Centre. "This collection fits beautifully in our collections mandate and will facilitate academic studies from popular culture to the medical humanities. The collection will be ideal for graduate student theses or independent research papers. We also look forward to sharing these books in upcoming displays in our gallery."
The range of the collection demonstrates the reach of the vampire across modern culture and literature, with the tropes, images, and symbols associated with the vampire well represented. Thanks in no small part to the efforts of Dr. Miller, who is also the founding editor of the peer-reviewed Journal of Dracula Studies, the study of the subject is flourishing, with much yet to be explored. Dr. Miller's interest in the subject of Dracula began around 1990, with her teaching of Gothic Literature at Memorial University. From the outset, her interests centred on Dracula itself, as she describes: "its variant editions, its widespread appeal, its author and its enduring influence. I especially enjoy the annotated editions of the novel."
"I am delighted that my books have found a permanent home where they will be accessible to students and researchers," says Dr. Miller. "Bram Stoker would be amazed!"
Click here for the finding aid
To donate original materials from the modernist era (1880-1940), or to conduct a research project on the holdings, please contact the MLC archive at archive@mlc.ryerson.ca