Mary Riter Hamilton, Sanctuary Wood, Flanders, 1920. Oil on plywood. 59.1 cm x 45.7 cm. Library and Archives Canada.
---
Although the Great War is often gendered male, the women who engaged with the war left an indelible impact on history. Soldiering through countless hardships, women artists in Canada and Newfoundland contributed unique representations of the Great War and its effects on society at a national scale. Ontario-born landscape painter Mary Riter Hamilton confronted devastation and trauma as she explored post war remnants, painting the ravaged battlefield landscape overseas in the immediate post-Armistice era. In her oil paintings and charcoal drawings, Hamilton shaped a visceral understanding of the human cost that fueled the Great War. Similarly, American-born, Toronto-based sculptor Frances Loring embraced a classically male artistic medium to chronicle Canada's war effort at the home front. She sculpted busts in bronze, giving female munition workers their due. Meanwhile, in her Newfoundland studio, portrait photographer Elsie (Elizabeth) Holloway provided historical portraiture to immortalize the lives affected by the Great War.
Parallels, an exhibition at Ryerson's MLC Gallery, pays tribute to this mighty triad of female artists. Among the items on public display are Loring's own sculpting tools, as well as a copy of "The Gold Stripe," published by the War Amputations Club of British Columbia, who commissioned Hamilton's front line paintings. The gallery also showcases one of Hamilton's dazzling silk scarves, which were hand painted in 1925 to earn an income to return her war paintings home.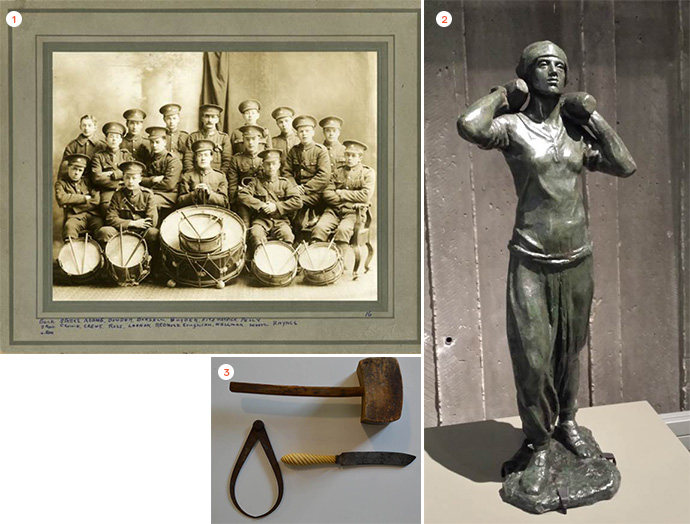 Elsie Holloway, Regiment Drum and Bugle Band. Photograph 1916-1917. The Rooms Provincial Archives Division, MG702, Item B 1-138.
Frances Loring, The Shell Finisher, bronze, 1918-1919. 67 cm x 19.5 cm x 21 cm. Beaverbrook Collection of War Art, Canadian War Museum.
Frances Loring, Sculpting Tools. Private Collection.
As curator Caitlin Bailey, executive director at the Canadian Centre for the Great War/Centre Canadien pour la Grande Guerre, describes: "We are extremely pleased to be able to highlight the work and wartime experiences of these talented women, and to bring their stories to Canadians."
"This exhibition uniquely intersects with an important branch of our research here at Ryerson University," says Irene Gammel, director of the Modern Literature and Culture Research Centre. She continues: "The contributions of women to critically representing the Great War effort in visual art have remained underexplored in scholarship. We are proud to partner with the Great War Centre in Montreal and to host this exhibition, which we hope will stimulate student and faculty research."
This exhibition is open to the general public. All are welcome to come and explore the critical impact of these significant women artists on the narrative and visual culture of the Great War.
Parallels: Women Representing the Great War in Canada and Newfoundland

Modern Literature and Culture Research Centre Gallery
111 Gerrard Street East, Toronto, Lower Floor
March 15 - April 30, 2018
Opening Hours: Monday to Friday, 11:00 AM to 3:00 PM

Curator's Guided Tour of the Exhibition
Wednesday, March 14, 1:00 PM

RSVP by email
For more information about the exhibition or for interviews with the curator, please contact:
Cameron MacDonald, coordinator, admin@mlc.ryerson.ca
Caitlin Bailey, curator, curator@greatwarcentre.com