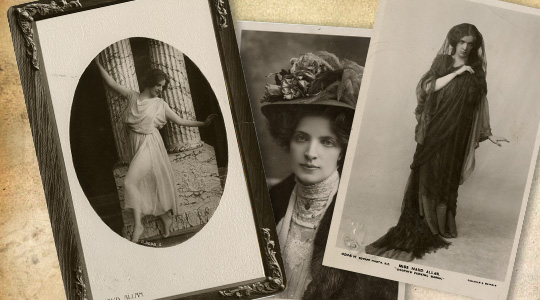 Finding Aid Compiled by Graham MacLean, June 2012
MLCRC, Ryerson University
111 Gerrard Street East, Top Floor, Room 354
Toronto, Ontario
Tel: 416-979-5000 ext. 4771
Volume: 1 drawer (in the archive room GER 332)
Acquisition: The postcards were purchased individually for the MLCRC from various sources: Michael A. Morrison, Heather Haverfield, Jim Jackson, and Ephemera & Object. The certificate of authenticity was provided by The RE Society Ltd.
Access: Access is unrestricted, but please ask the staff if you would like to examine anything.
Copyright: The researcher assumes full responsibility for conforming within the laws of copyright. Whenever possible the MLCRC will provide information about copyright owners and other restrictions, but the legal determination ultimately rests with the researcher. Requests for permission to publish material from this collection should be discussed with the head of the MLCRC, Irene Gammel.​
Administrative History
The postcards were purchased with research projects in mind. The pictures were obtained for an exhibit.
Scope and Note
The Ephemera Collection includes postcards and artwork relevant to the MLCRC's research interests and a collection of pictures. The inventory presented here covers only what was present in the collection at the time of compilation. Additional items may have since been acquired.
Series Descriptions
Back to table of contents
Series 1: The postcards depict Maud Allan.
Series 2: The pictures are by Reg Beattie, Toronto, 2010.
Series 3: The certificate is in regards to a lithograph on display.
Inventory List
Series 1
1. Postcard showing Maud Allan
2. Postcard entitled Miss Maud Allan
3. Postcard showing Maud Allan, entitled Chopin's Funeral March
4. Postcard showing Miss Maud Allan, entitled Moment Musical
Series 2
1. Reproducing the Salon in Gertrude Stein's Dix Portrait
Series 3
1. Certificate of Authenticity "Jack Johnson vs. Arthur Cravan"
Last updated 26 June 2012 by Graham MacLean.